All of our recipes are made with healthy human food for dogs, making Lucky Dog Cuisine the best available cooked dog food delivery. Our meats are sourced from within Canada. We use real cheeses and yogurts, our grains are all top quality (never pet grade, moldy grains) and everything in our product is designed to create tastiest, healthiest human food for dogs in the world.
Human Grade Dog Food
Original Recipe Beef & Rice
A canine culinary delight featuring custom ground beef, simmered and blended with brown rice, tomatoes and vegetable purée. Perfectly complemented with smooth cottage cheese, blueberries and fresh apples, and extra virgin olive oil. Listen closely when you feed your dog this human grade dog food, you can actually hear your them say, "Yum!"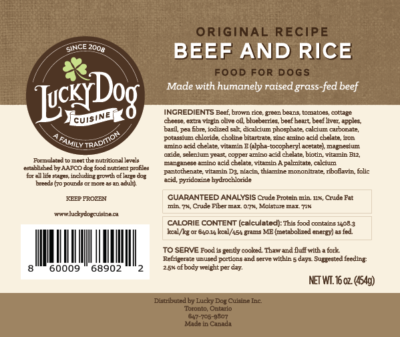 Tail Waggin' Turkey & Rice
Want to mix things up a bit for your best friend? Try our turkey human grade dog food recipe! Tender turkey is sautéed with tomatoes and brown rice, which is cooked with filtered water, of course. Add puréed green beans and carrots, yogurt, apple, blueberries and extra virgin olive oil.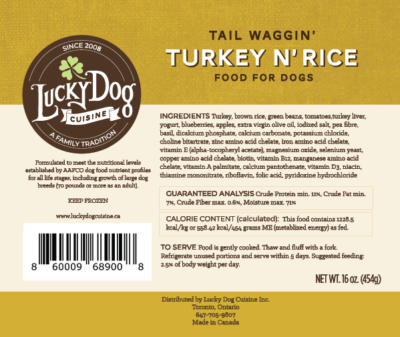 Bugsy's Best Beef & Barley
A bountiful human grade dog food blend of custom ground beef and barley brought beautifully together with cottage cheese. Blended with puréed carrots and beans with blueberries and fresh apple. Add extra virgin olive oil and you have the best beef and barley dinner ever, according to Bugsy (one of the original Lucky Dogs) at least!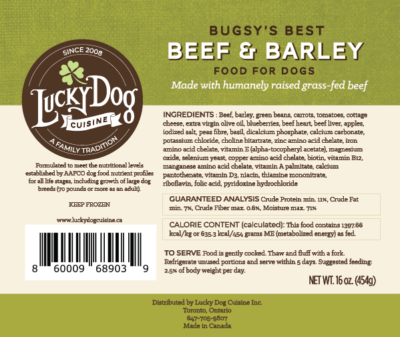 Picky Palate Pork
Looking for a recipe that will lure in your picky eater with a sensitive tummy? Then try this new human grade dog food recipe: we mix custom ground pork with cooked quinoa, carrots, green beans, healthy pumpkin, tasty apples and blueberries, and extra virgin olive oil. The result is a smoother texture that still packs a punch.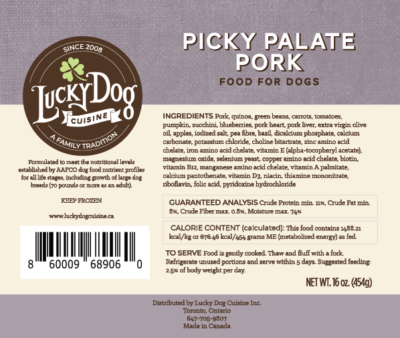 Lucky Dog Cuisine Here Fishy Fishy
Considered the 'catch of the day' by many canines, our fish recipe is sure to meet your dog's standards as much as it meets ours. Wild caught, alaskan pollock fillets, brown rice, yogurt, pumpkin, carrots, green beans, tomatoes, zucchini, apples, and extra virgin olive oil are combined to create a perfect palette pleaser for even the pickiest of pups.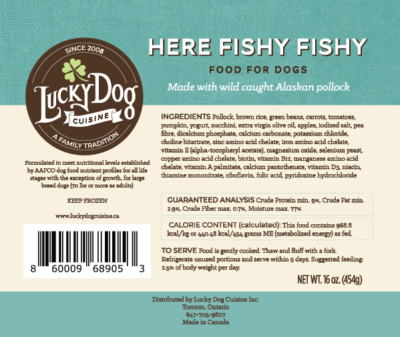 Perfect Pooch Pasta
A taste of Italy for your four-footed friend. Custom ground, humanely raised, grass fed beef, mixed with delicate whole wheat pasta, coupled with tomatoes, vegetables, cottage cheese, blueberries, apple, basil, oregano and virgin olive oil gives your pet the best food this side of Italy without the airfare.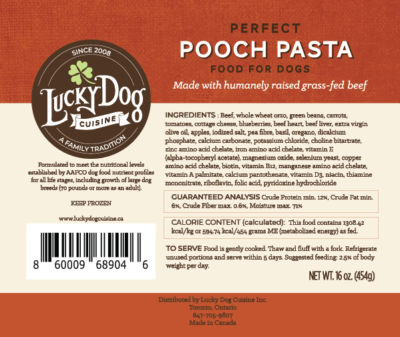 Turkey n' Taters
While we strongly believe that dogs benefit from grains there are some dogs that have a true grain allergy. For those special dogs we are proud to present Turkey 'n Taters. A wonderful blend of Turkey, roast potatoes, yogurt, pumpkin, spinach, carrots, apples, extra virgin olive oil, rosemary and love. Even if your dog doesn't need a grain free alternative they will still love to have Turkey 'n Taters join their rotation of Lucky Dog recipes.