A
ll of our recipes are made with human grade ingredients only, making Lucky Dog Cuisine the
best available food for dogs
. Our meats are sourced from within Canada. We use real cheeses and yogurts, our grains are all top quality (never pet grade, moldy grains) and everything in our product is designed to create the healthiest, tastiest dog food in the world.
Original Recipe Beef & Rice (Gluten Free!)
A canine culinary delight featuring custom ground beef, simmered and blended with brown rice, tomatoes and vegetable purée. Perfectly complemented with smooth ricotta cheese, blueberries and fresh apples, organic flax seed and extra virgin olive oil. Listen closely when you feed it and you can actually hear your dog say, "Yum!"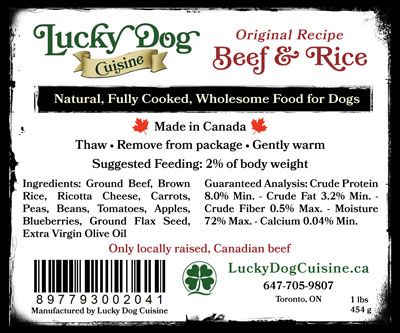 Lickin' Chicken & Rice (Gluten Free!)
Want to mix things up a bit for your best friend? Try our chicken recipe! Tender chicken is sautéed with tomatoes and brown rice, which is cooked with filtered water, of course. Add puréed peas, green beans and carrots, yogurt, apple, blueberries and extra virgin olive oil.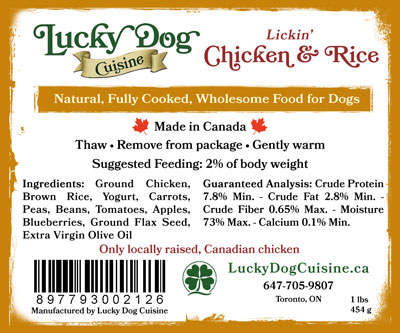 Bugsy's Best Beef & Barley
A bountiful blend of custom ground beef and barley brought beautifully together with creamy yogurt. Blended with puréed peas, carrots and beans with ground flax seed, blueberries and fresh apple. Add extra virgin olive oil and you have the best beef and barley dinner ever, according to Bugsy (one of the original Lucky Dogs) at least!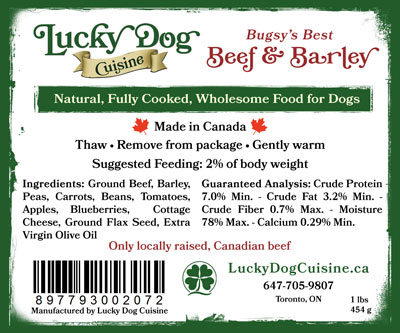 Picky Palate Pork (Grain and Dairy Free!)
Looking for a recipe that will lure in your picky eater with a sensitive tummy? Then try this new flavour: we mix custom ground pork with cooked split green peas, carrots, peas, green beans, healthy pumpkin, tasty apples and blueberries, and extra virgin olive oil. The result is a smoother texture that still packs a punch.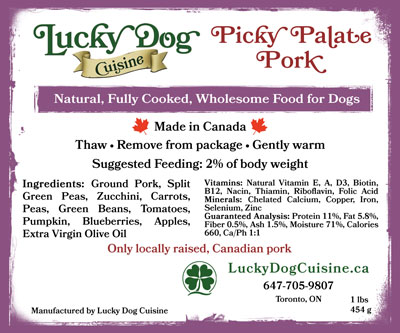 Lucky Dog Cuisine Homemade Cookies
Looking for something a little special to show your canine buddy that you love him? Has someone been a good boy? Then try our handmade cookies! Healthy whole wheat flour is mixed with savory ground flax seed, chicken stock powder, oatmeal, garlic powder and rosemary and then combined with water, eggs, olive oil, molasses, Romano cheese and a tasty apple. Your dog will be begging for more!